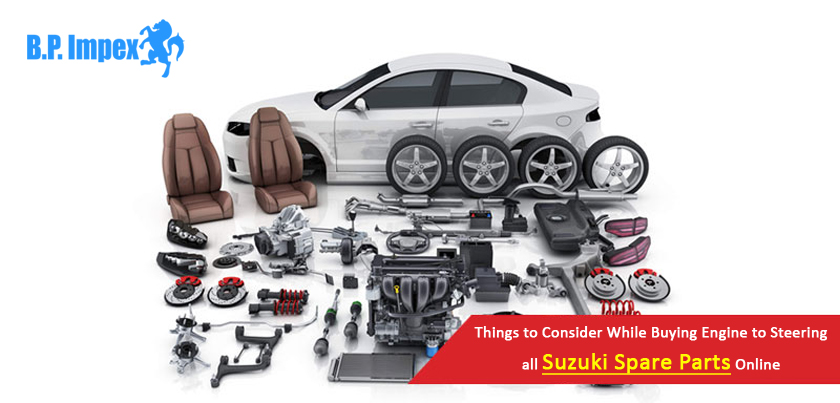 BP Auto Spares India is the number one solution to help you consider the right Suzuki Spare Parts Online. We have items at extensive prices and ranges that are cheaper than ever.
When you are buying things online, there are a few considerations to make. Here are some considerations you need to try out before purchasing an engine to steering for your Suzuki Spare Parts.
Warranty
To be honest, it is not a consideration, since we do not know what part of the product is defective, and we cannot bargain on the price. But still, it is a good thing to see if they can repair and replace it. Buying online gives you this option.
How long will it take to be delivered?
You must choose a seller who has an A-Z delivery policy and that the spare part will reach you relatively quickly after payment. BP Auto Spares India takes care of your delivery and helps you get your items right on time.
How much will it cost?
Online shopping has its perks, but your shipping charges are high. Try to find a seller who gives you an affordable price on the product and the shipping charges. BP Auto Spares India gives you the chance to pay for your items in easy instalments.
What is your return policy?
There is no such thing as a perfect product, and sometimes it becomes necessary to return what we buy. But if we don't get it after paying so much online, we will get frustrated and regret ourselves for making such a decision. BP Auto Spares India understands your plea. We help you to get items right on installations and which have an easy return policy. We have a dedicated customer care executive who is constantly available to help you with all your concerns. You can reach out to them at the touch of a button.
What kind of warranty do they provide?
You need to know if there is any warranty on the product you are buying. A warranty helps us understand what quality we are getting and what price we should pay for it. BP Auto Spares India provides the best quality online spares, all in one place, which you can trust.
BP Auto Spares India has all these features to help you buy an engine to steering for your Suzuki car through us only because we want you to get maximum happiness along with your purchase decision.
BP Auto Spares makes communication easy between suppliers and customers who want to buy Suzuki spare parts online in India.