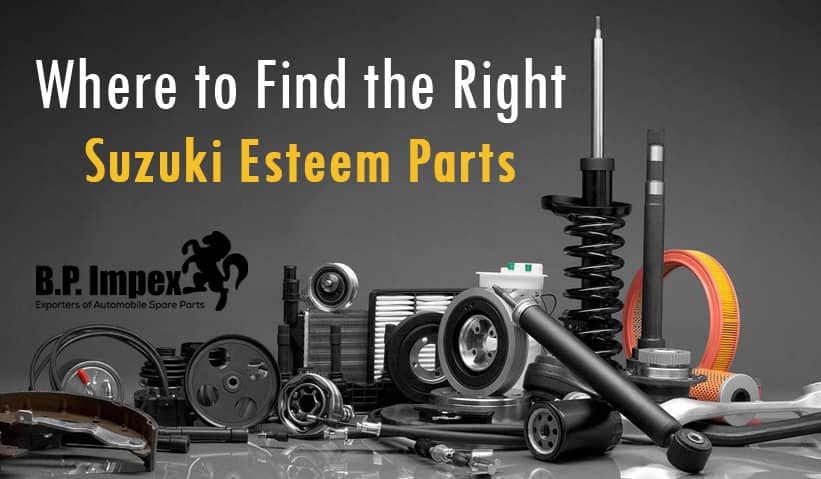 The Suzuki Esteem is a compact car that was launched in  1995 and remained in production until 2022. Bp Auto Spares India is the right place for all the Suzuki Esteem Parts. We offer high-quality Suzuki Esteem Parts at the most competitive rates. It includes air intake components, brake parts, windscreen, and much more. So if you are searching for any parts, it is readily available on our virtual shelves.
Why Choose BP Auto Spares India for Suzuki Esteem Parts?
With our comprehensive range of products combined with a user-friendly operating site interface, you can access find the Suzuki Esteem parts within minutes. Our Accessory department offers any spares as per your requirements. It ranges from a variety of floor mats and seat covers to suspension kits. Furthermore, in the endless list, of custom lighting and wheel and tyre packs, travel kits  etc can modify your Suzuki Spare Parts into your customized travel dream machine.
By buying with BP Auto spares India, you don't have to combat the traffic, weather, or worry about the parking space parking your vehicle. You can simply purchase whatever parts from the comfort of your home. We are here to get it delivered to your doorstep.
Why choose Suzuki Esteem parts?
It is no secret for every vehicle, be it a brand new set of wheels or the most sophisticated luxury car, needs routine maintenance. That's why we offer A-Z  things of Suzuki Esteem Parts. It ranges from oil filters and wipers to engine parts and axle bearings and clutch plates. Our replacement components ensure the reliability to take you across your journey of precise spare parts shopping. Our OE offerings have the best deal. That indicates our products are authentic Suzuki Esteem parts. It is exactly the same parts as implemented by the car manufacturer.
You will be glad to find the very same at our counter.
At BP Auto Spares India, we are privileged to offer you the huge  choice of Suzuki Esteem Parts and accessories of If you have any queries further on any products. Reach out to us. we have an expert panel to walk you through. to contact our team and get any relevant information.
Our Suzuki Spare Parts Lists: –
Suzuki Ritz Parts | Suzuki Ritz Car Parts | Suzuki Ritz Spare Parts | Suzuki A-Star Spare Parts | Suzuki A-Star Parts | Suzuki A-Star Car Parts | Suzuki Swift Dzire Spare Parts | Suzuki Swift Dzire Parts | Suzuki Zen Car Parts | Suzuki Zen Spare Parts | Suzuki Zen Parts | Suzuki Celerio Spare Parts | Suzuki Celerio Parts | Suzuki Celerio Car Parts |