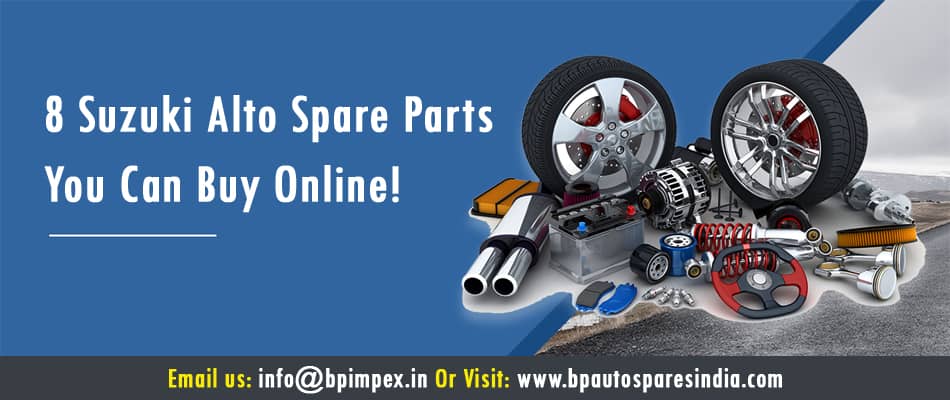 Suzuki Alto is one of a kind vehicle that was launched in 2000. The car was one of the best-selling models in India as it was cheap and compact which made it a perfect fit for Indian roadways. However, a perfect model is prone to encounter theft or wear and tear due to overuse. If you are panicking because you lost one of your parts then relax! You can easily buy the following original Suzuki Alto Spare Parts online for your perfect vehicle.
1. Engine Parts
The engine is the powerhouse of any vehicle and thus maintaining the engine must be a car owner's priority. You can replace any damaged engine parts with the new original spare online.
2. Brake Parts
Brake parts such as brake shoes, brake pad, and cylinders both master and wheel are some vital parts that help control your car which is easily available online.
3. Suspension Parts
Suspension parts are what make your ride smooth and easygoing. Springs, shock absorbers and joining systems available online can help you bring back those smooth ride experiences.
4. Cooling and Heating Parts
Cooling and heating parts are to maintain the luxury of your car. Coolant tanks and radiators are all part of it.
5. Maintenance Parts
Seal kits and filter elements make this group one of the most important groups essential for maintaining your car. Clutches and gaskets are also available easily.
Electric plugs, batteries, alternators and other battery packs make this section an important section which is available online.
7. Body Parts
Your car's body is what everyone sees; it consists of doors, windows, bonnet etc. These parts, if damaged, can be replaced.
8. Steering Parts
Steering controls the direction your car moves on and thus contains an important fraction of parts that can be easily found online for a car as good as new.
BP Auto Spares India is your one-stop destination for finding all these Suzuki Alto Spare parts. We have a wide variety of parts available so that you successfully restore the efficiency of your vehicle so wait for no further and buy spare parts online today to use the best of your automobile.