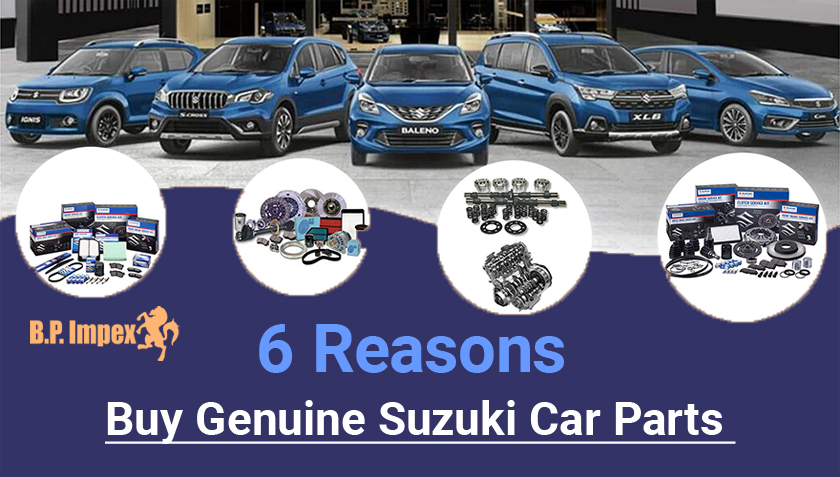 If you are a proud Suzuki car owner, this blog is for you.
Due to the cost factors or the ease of buying, many car owners rely on fabricated (read assembled or fake) Suzuki car parts. It not only causes troubles on the road but also affects your car's health adversely.
Here are six important reasons for you to decide on original Suzuki parts.
Safety
Buying genuine car parts helps to maintain the car's integrity and ensures the safety of the car and the users and passengers.
Matching Vehicle Specifications
Every car is made according to the model. Suzuki Car Parts are the genuine OEM used in their cars. There is no adjustment or fitting involved when you use genuine car parts, as each part fits perfectly like a seamless puzzle. Genuine parts never fail, and they require less maintenance.
Exact Fit
Precision is the hallmark of genuine spare parts; they fit perfectly without adjustment.
Replacement Guarantee
With Suzuki Car Parts, you can be assured that your car will get a replacement guarantee whenever your car is due for maintenance.
Authorised Workshop is Guarantee of Full Service
When you approach an authorised car dealer or workshop for your car maintenance schedules, you can be assured that they will use only the genuine parts that cover all issues and failures.
Quality
Quality products give a sense of confidence and security that your car will give its 100% performance. With Suzuki Car Parts, you are assured that you are getting a genuine replacement of parts built in the same factory and from the same production line. This also means that there is no compromise or adjustment on quality, and the spare parts always meet your set of requirements.
It is not about the money. It is about quality. If you look at saving money for the short term, it will be an expensive proposition in the long run. But if you use genuine car parts, you can save a significant amount on maintenance, petrol, servicing and many things.
If you find it challenging to find genuine parts for your car, then you can order them online from BP Auto Spare India's online catalogue. They have all the spare parts for all the car models.