Suzuki is India's most popular brand of cars. Out of 100 cars on the streets, you will find at least 80 different car models which belong to Suzuki. Suzuki is a Japanese car maker company known as Maruti-Suzuki, due to a more than 20 years joint venture with Maruti Motors. The most famous car of this alliance was the Maruti 800 model, which rules the Indian streets for more than 15 years.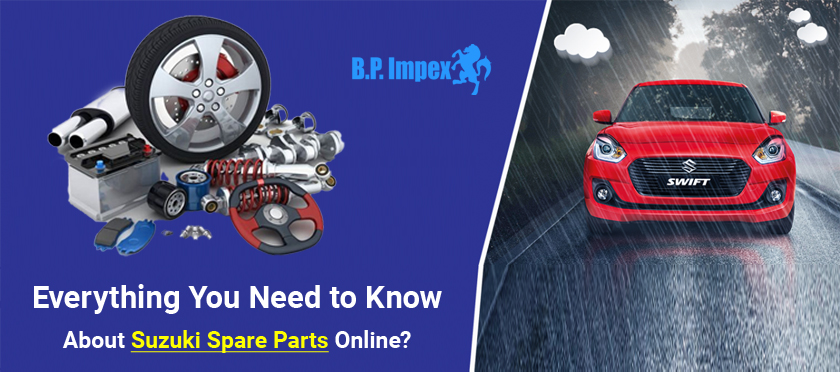 Quality
Suzuki is known for its impeccable quality of cars. Their cars have the best spare parts, which are OEM quality. Suzuki spare parts are imported by companies with a robust strategic business alliance with the Suzuki Company for more than 20 years.
Made for India
Car problems arise when the spare parts used in the original design get old or are replaced with cheaper versions. OEM Suzuki spare parts are specifically designed for the Indian roads and their range of cars in India.
Buy Online
With the authorized partner upgrading its online business with more resilient logistical support, you can order your Suzuki spare parts from the comfort of your home without having an iota of doubt about the original quality of the parts. The authorized partner is the price and quality leader for online Suzuki Spare Parts replacement and purchase with a 24/7 online catalogue.
The authorized partner also exports Suzuki spare parts to the markets of Africa, Europe, and Latin America. Africa is the largest market for Suzuki Spare Parts, with an outlet in every big commercial city of the African continent.
Suzuki is the epitome of quality in India. So it is befitting that your Suzuki car needs only the best Suzuki spare parts.
Qualities
Suzuki parts have the following qualities that make it the preferred choice of Suzuki car owners.
Rims – Rims on Suzuki Cars are its essential feature that makes them attractive. Every car has a unique design and structure. Suzuki spare parts are constantly upgraded with the latest designs to make your cars attractive. These include different colours and neon patterns that glow in the dark.
Steering Wheels and Covers and Gear Handles – Suzuki parts include the steering wheel, gear handles, and covers. A good grip comes with a robust design and covers, which gives a sense of complete control over the car's manoeuvring on the roads. If you are looking for genuine spare parts for your car, then BP Auto Spares India is the best provider in the market.