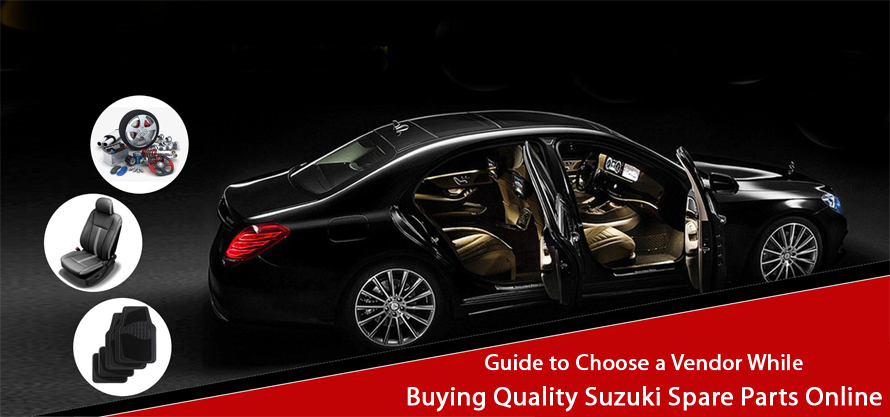 People buy vehicles for a comfortable and quick commute. However, vehicle components need time to time servicing and replacement to provide comfort in the long run. It also ensures the safety of your ride. Choosing a place to buy a spare part is a tough decision to make. So here's a guide to selecting a vendor to buy Suzuki Spare Parts from.
Guide to Buying Quality Suzuki Spare Parts Online
Reliability
Choosing a trustworthy vendor who delivers quality spares is essential. Spare parts need to be tested under extreme conditions to assure quality, reliability and durability. Hence, choosing a company that guarantees you the quality and durability of their spares can help you ride your vehicle in peace. Buying counterfeit parts lead to accidents, fire and other safety hazards.
 Proper Fitting of Spare Parts
Original Suzuki spare parts are designed to fit your Suzuki vehicle perfectly. However, with fake spares, manufacturers make the spares such that it works on various automobiles. Hence the mechanics will have to make a few adjustments or modifications in that part to fit into your vehicle perfectly. This will cause malfunctioning of the Suzuki Parts, accidents or safety hazards in the long run.
Vendors like BP Auto Spares India have a complete range of vehicle-specific spare parts that are quality tested and made of high-quality materials.
Warranty/ Guarantee/ Return Policy
Vendors dealing with Counterfeit spares do not offer a warranty or return period. Hence it is recommended to choose the vendors who offer a guarantee and return policy of their product. This acts as a guarantee for authenticity.
Discounted Prices
Yes! It is a myth that fake parts are only available at cheaper rates. Many sellers buy parts in bulk and sell Suzuki spare parts at the most affordable rates in the market. Choosing one can save money.
Only buy Suzuki Ritz Car Parts from sellers who have a good market reputation. You can always go for BP auto spares India when in doubt.
BP Auto Spares India offers quality spare parts at the best rates in the market. With us, you can bid goodbye to mechanical problems, component malfunction and all the hassles that come with fake parts. No matter which Suzuki spare parts you are looking for, We have your back!