During the recent Bus & Special Vehicles Show organized by Society of Automobile Manufacturers at Greater Noida in January 2015, the automotive company Ashok Leyland, launched three fabulous buses for intercity, intra-city, airport tarmac, and school transport applications. Below is an insight on these new products from the manufacturing giant:
1. Versa EV Electric Bus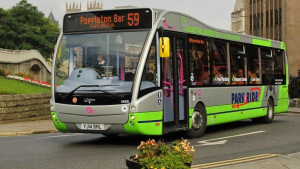 With zero emissions and zero noise, the amazing Versa EV Electric looks chic and classy in all aspects. Touted to provide an excellent travelling experience to its passengers, this vehicle boasts of stylish exteriors, spacious interiors, great air suspension, seat mounted stanchions, host of charging points, Wi-Fi facility, low-floor, regenerative braking, wide door build, foldable ramp, and much more. It also offers a superlative seating arrangement with special facility for wheelchair access. Available in lengths ranging from 9.7m to 11.8m, this vehicle can accommodate 44 passengers and can run smoothly even on the toughest of terrains. Its varied applications include feeder, airport tarmac, and intra-city transport. The highlight of this vehicle is that it helps in minimizing carbon footprint, whilst offering the efficiency and maneuverability of a diesel engine. Purchase of Leyland spare parts is also easy and simple, as BP Auto Spares India offers an array of Leyland Parts to its customers.
2. 12m FESLF CNG bus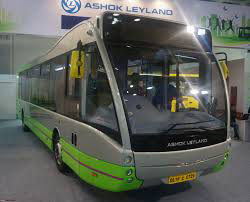 Perfect as a feeder and city commuting vehicle, the 12m FESLF CNG comes equipped with an 'H' – series, 6-cylinder, CNG engine, front parabolic spring & rear air suspension with shock absorbers, tubeless radial tyres, and a best-in-class air-conditioning system. In terms of safety, it renders a host of features such as fire detection and suppression system, fail-safe electrical system control, fault diagnostic system, and intelligent driver System.
3. MiTR School bus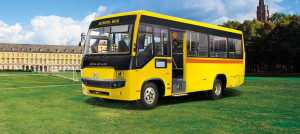 Outfitted with an advanced and powerful ZD30 engine, the MiTR school bus provides contemporary features such as front and rear leaf spring suspension, low noise, vibration, & harshness levels, low centre of gravity for enhanced stability, two emergency exit doors, and much more.
Being one of the largest providers of electric and hybrid buses in the country, Ashok Leyland strives to offer the best service in urban transport. Here's a list of The 4 Most Popular Bus Variants of Ashok Leyland.